Dax Guenther, MD: Coastal Plastic Surgery
2 Pond Park Road #308
Hingham, MA 02043
Phone: (781) 740-7840
Monday: 8 a.m.–4 p.m.
Tuesday: 7 a.m.–3 p.m.
Wednesday: 8 a.m.–4 p.m.
Thursday: 7 a.m.–3 p.m.
Friday: 7 a.m.–2 p.m.
Saturday–Sunday: Closed

Dax Guenther, MD: Coastal Plastic Surgery
6b Amelia Drive
Nantucket, MA 02554
Phone: (781) 740-7840
Monday–Friday: 8 a.m.–4 p.m.

Chemical Peels & Lasers/Lights
Rough, irregularly colored or textured skin can result from factors such as acne, sun exposure, and aging. Chemical peels and laser skin treatments at our med spas in Hingham, Boston, or Nantucket can gently correct skin, improving scars, spots, wrinkles, and rough patches for a healthier complexion.
Chemical Peels & Lasers/Lights

Before & After Photos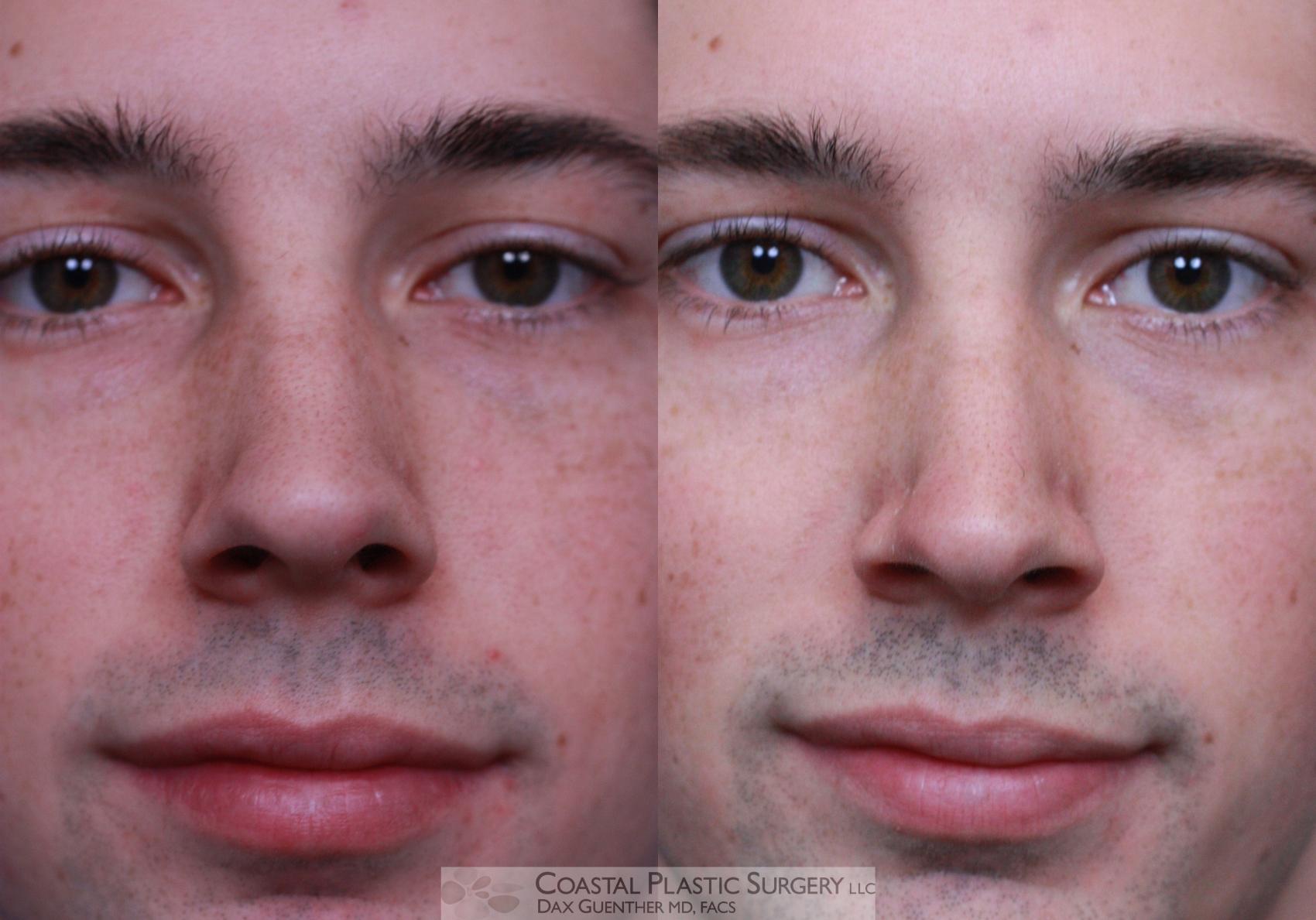 Before & After
Case #79
Young man in 20s bothered by acne and sun damage. Shown 10 days after SkinMedica Vitalize peel.

Before & After
Case #119
Gentleman in 50s bothered by rosacea and redness. Shown after Sciton BBL treatment.
Keep in mind that each patient is unique and your results may vary.
Advanced Techniques & Options
A chemical peel involves the application of a specially formulated chemical compound that, as the name implies, peels the outside layers of skin from problem areas without the need for surgery. We offer different strengths and types of peels. These range from lighter SkinMedica and VIP "lunchtime peels" performed by our med spa staff to deeper TCA and phenol peels performed by Dr. Dax.
We also offer the Sciton BBL™ (BroadBand Light) laser to address a range of skin conditions. The versatility of the BBL laser enables us to treat sun damage, hyperpigmentation, spider veins, and rosacea. We also use BBL for laser hair removal.
Bear in mind that all skin is unique. The best way to determine which treatments are best for you is to consult a professional. We offer complimentary consultations with our med spa staff.
Meet Haley
A licensed medical aesthetician with over a decade of experience, Haley Stevens is an integral part of our medical spa team. She is passionate about helping others and has been certified on over 15 different medical aesthetic devices. This vast knowledge combined with her friendly bedside manner makes her a highly sought out skin care professional.
Learn More
Healing & Enjoying Your New Look
The duration of your treatment and recovery will depend upon the severity of your skin damage, the depth of the peel or laser, and the number of areas in which you require the procedure treatment. Mild chemical peels or fractionated laser treatments can be quick treatments that require no real downtime. Deeper peels or ablative laser treatments cause your skin to go through a sloughing process that may keep you at home for a week or more. Dr. Dax will discuss the various peel and laser treatment options available, and which one is right for you. Chemical peels and laser treatments can complement other skin care treatments such as BOTOX® and Dysport®.
A Reputation Built on Results
I had two plastic surgery procedures (nose, BA) done here in one go, and I was so nervous beforehand....
Dr. Dax and his whole team are phenomenal. I got a rhinoplasty two months ago after debating on it for...
I couldn't be happier with choosing Dr. Dax Guenther and his team at Coastal Plastic Surgery. Dr. Dax...
Whether you're treating yourself to a day of beauty or incorporating our services into your regular skin care routine, jump-start your skin care in Boston, MA with a chemical peel by seeing one of our experts. The treatments we offer have all been proven safe and effective and are administered in a comfortable medical environment. Request a consultation online with board-certified plastic surgeon Dr. Dax Guenther, or call us at (781) 740-7840 , to speak with one of our team members today.
Back to Top