Dax Guenther, MD: Coastal Plastic Surgery
2 Pond Park Road #308
Hingham, MA 02043
Phone: (781) 740-7840
Monday: 8 a.m.–4 p.m.
Tuesday: 7 a.m.–3 p.m.
Wednesday: 8 a.m.–4 p.m.
Thursday: 7 a.m.–3 p.m.
Friday: 7 a.m.–2 p.m.
Saturday–Sunday: Closed

Dax Guenther, MD: Coastal Plastic Surgery
170 Commonwealth Avenue #108
Boston, MA 02116
Phone: (781) 740-7840
Monday–Friday: 9 a.m.–5 p.m.

Dax Guenther, MD: Coastal Plastic Surgery
6b Amelia Drive
Nantucket, MA 02554
Phone: (781) 740-7840
Monday–Friday: 9 a.m.–5 p.m.

CoolSculpting® in Boston
Even among those who exercise, eat right, and take pride in leading a healthy lifestyle, a few noticeable bulges of stubborn fat often remain. CoolSculpting treatments are an ideal solution. A non-surgical alternative to liposuction, the CoolSculpting procedure is available near Boston at our South Shore practice and is one of our most popular fat-reducing procedures. We are proud to have earned the distinction of CoolSculpting Certified Practice and have completed over 1,000 procedures.
What Areas Can Be Treated With CoolSculpting?
CoolSculpting is an FDA-cleared body contouring procedure that reduces areas of stubborn fat without surgery. Commonly treated areas include:
Flanks (love handles)
Abdomen (tummy)
Back (upper and lower)
Inner and outer thighs
Armpit fat
Upper arms
Keep in mind that each patient is unique and your results may vary.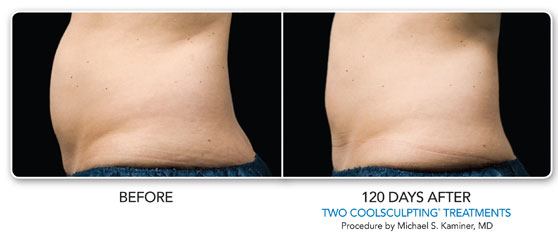 Keep in mind that each patient is unique and your results may vary.
Although CoolSculpting treatments reduce fat, they are not designed for people who want to lose a significant amount of weight. Rather, good candidates are in good overall health and want to tone and sculpt specific areas of their bodies where they can't seem to lose stubborn fat.
Who Is a Good Candidate for CoolSculpting?
How Does CoolSculpting Work?
A pair of Harvard University scientists developed the CoolSculpting technique based on the concept of cryolipolysis, which uses cold temperatures to freeze fat cells. CoolSculpting treatments safely kill fat cells because they freeze at higher temperatures without harming skin or other cells. Treated fat cells die and are gradually absorbed by the body's natural cleansing process. (See animation video.)
A clinical study found that: "Treatment resulted in a normalized fat layer reduction of 20.4% at 2 months and 25.5% at 6 months after treatment."1
What Happens at a CoolSculpting Consultation?
Women and men interested in CoolSculpting will first have a complimentary consultation with Dr. Guenther or one of our certified practitioners to determine whether the treatment is suited to their individual needs and goals. Although CoolSculpting treatments can reduce fat by as much as 20% to 25% in one area1, patients who want more extensive reduction may be better suited for surgical treatment. In this case, Dr. Guenther may suggest liposuction as a more appropriate treatment path.
Meet Haley
A licensed medical aesthetician with over a decade of experience, Haley Stevens is an integral part of our medical spa team. She is passionate about helping others and has been certified on over 15 different medical aesthetic devices. This vast knowledge combined with her friendly bedside manner makes her a highly sought out skin care professional.
Learn More
What Happens During a CoolSculpting Treatment?
CoolSculpting treatments are performed in the safety of our privately owned plastic surgery office under the direction of board-certified plastic surgeon Dr. Dax Guenther. Because we own 2 CoolSculpting machines, we make treatments of multiple areas twice as fast. This process, sometimes called DualSculpting, allows us to treat 2 areas in 60 minutes instead of 2 hours.
Once the CoolSculpting applicator is placed over the area of fat and turned on, patients may feel tugging, pinching, or numbness at first. The procedure itself involves little discomfort for most patients, who usually liken it to the cold and numbing sensation of using an icepack. Patients often read, use mobile devices, or even nap during the treatment.
Back to Top