Dax Guenther, MD: Coastal Plastic Surgery
2 Pond Park Road #308
Hingham, MA 02043
Phone: (781) 740-7840
Monday: 8 a.m.–4 p.m.
Tuesday: 7 a.m.–3 p.m.
Wednesday: 8 a.m.–4 p.m.
Thursday: 7 a.m.–3 p.m.
Friday: 7 a.m.–2 p.m.
Saturday–Sunday: Closed

Dax Guenther, MD: Coastal Plastic Surgery
6b Amelia Drive
Nantucket, MA 02554
Phone: (781) 740-7840
Monday–Friday: 8 a.m.–4 p.m.

Facelift in Boston
A youthful appearance that looks natural and expressive can influence your personal interactions, create a positive first impression, and even result in greater self-confidence. Women and men concerned that loose, wrinkled skin makes them appear older than they feel can benefit from a facelift at our Boston-area plastic surgery practice. Board-certified plastic surgeon Dr. Dax Guenther addresses your concerns using advanced techniques that create natural-looking results.
What Are the Benefits of a Facelift?
Aging not only causes the skin to lose its elasticity but also causes facial fat and connective tissue to diminish. Modern facelift surgery elevates the underlying tissue and muscle and restores volume, in addition to removing excess skin. Facelift surgery can:
Restore volume to the cheeks
Eliminate jowls and reshape the jawline
Smooth facial wrinkles and lines
While a facelift addresses the mid and lower face, men and women concerned about sagging neck skin can benefit by having a neck lift performed at the same time. A neck lift creates a sculpted neckline and a well-defined chin.
Dr. Dax answers any questions you might have about a facelift or neck lift during your initial consultation. His many years of surgical education and experience have given him the skill and eye to achieve optimal yet natural results.
Am I a Good Candidate for a Facelift?
Good facelift candidates are men and women who want to address aging in the lower face and meet the following criteria:
Are in good health
Do not smoke (or are willing to stop before and after surgery)
Have time for recovery
Have realistic expectations about their results
What Is a Deep-Plane (High SMAS) Facelift?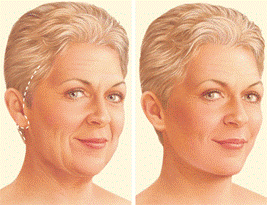 Deep-plane (high SMAS) facelifts involve the freeing of deep layers of connective tissue and fat, which are then placed back in a more youthful location. The "lift" occurs at these layers, preventing tension on the overlying skin, which is re-draped for a very natural appearance. The lack of tension on the skin prevents the "wind-blown" look that commonly follows more traditional "skin-only" lifts, which use tension to pull the wrinkles away.
Through his training and experience, Dr. Dax has chosen to specialize in deep-plane facelifts. These procedures are technically more difficult than "skin-only" or "thread" lifts but provide more natural and long-lasting results.
Incisions depend upon the amount of excess skin requiring re-draping but will typically include one behind the ear, one in front of the ear, and one that partially extends up into or along the scalp. The incisions behind the ear and in the scalp are hidden, while the one in front of the ear is carefully camouflaged.
If Dr. Dax is also performing a neck lift, he may also make a small incision below the chin.
A thread lift, also called a skin lift, is rarely as effective and is appropriate only for younger patients whose skin retains much of its elasticity.
Because facial aging is rarely confined to one area, Dr. Dax routinely performs facelift surgery with eyelid surgery or a brow lift. He will also perform fat grafting to the face if needed and can recommend med spa procedures such as BOTOX® and Dysport® injections that might complement your surgery.
Simulate Your Results
Using state-of-the-art 3D imaging technology, Crisalix gives you the opportunity to preview potential results and feel confident about your cosmetic choices.
Get Your Consultation
What Happens After Facelift Surgery?
Many patients return home on the day of their surgeries after Dr. Dax checks to ensure they are ready. In some cases, patients remain overnight in a comfortable recovery room. In either case, we see them the day after the surgery. Dr. Dax has patients return after 5 to 7 days to have sutures removed. The next follow-up appointments are at 6 weeks and 3 months after the procedure.
How Long Is Deep-Plane (High SMAS) Facelift Recovery?
Even though you can return to work about 5 days after facelift surgery, you should allow several weeks for healing if you're attending a social function such as a wedding or class reunion. Facelift recovery is often more comfortable than patients expect. Typically, any discomfort can be effectively managed with either prescription or over-the-counter medication.
Patients can begin mild lower-body exercise after about 2 weeks. At 6 weeks, activity is unrestricted, and results and scar maturation will continue to develop for up to 1 year. Dr. Dax is available to answer questions and offer assistance throughout the recovery period.
'Excellent Face Lift'

"Dr. Guenther was wonderful at understanding exactly what I was looking for and I can't tell you how happy I am with the results. I had very little pain after the surgery and most of the area's where Dr. Guenther cut could not be seen right from the beginning. He is wonderful and I would strongly suggest him to anyone who was interested in having this type of work done."

5-Star RealSelf Review
How Much Does a Facelift Cost?
The price of a facelift may vary dramatically from practice to practice. When you ask about the cost, make sure the total includes everything you will pay for. That may include:
Surgeon's fee
Hospital or surgical facility costs
Anesthesia fees
Prescription medications
Medical tests
Keep in mind, however, that shopping for the lowest cost isn't a good way to select your plastic surgeon. Choosing a board-certified, experienced surgeon who is qualified to perform the procedure you want should be your top priority. Coastal Plastic Surgery partners with CareCredit® for qualified patients who wish to finance their procedures.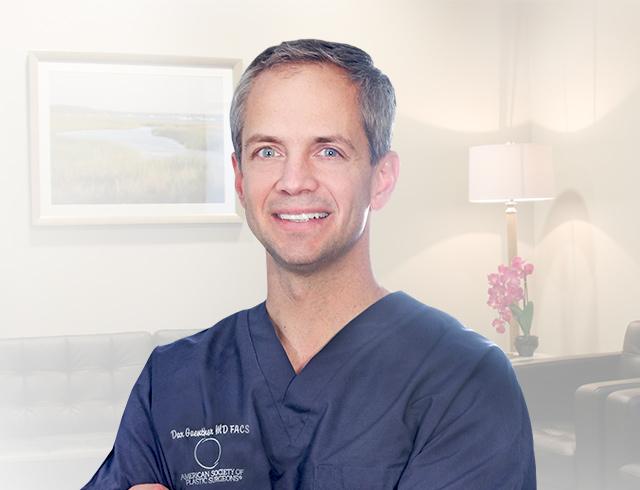 Meet 'Dr. Dax'
Board-Certified Plastic Surgeon
With impeccable credentials and a personable bedside manner, Dr. Dax gives his patients confidence and peace of mind from their initial consultations through follow-up appointments. He established his boutique private practice in 2012 and is among the best plastic surgeons in the Boston area.
Meet Dr. Dax


Are you ready to learn more about how Dr. Dax can give your face a more rested and youthful appearance? Request a consultation online or call us at (781) 740-7840 to speak with one of our team members today.
Other Common Facelift Questions
Most patients have several questions when they are considering getting a facelift or neck lift, and Dr. Dax is happy to answer all of them. Below are some of the most common questions patients ask.
What is the "right age" for a facelift?
Even though most facelift patients are in their 40s or older, there is no real "right age" for this procedure. If you have sagging tissues on the lower two-thirds of your face or lax neck skin and are healthy enough to undergo surgery, a facelift and neck lift may be right for you, regardless of age.
How long does a facelift last?
Although no surgery can halt the aging process, Dr. Dax's deep-plane facelift can slow it down. Many patients find their results last as long as 10 years before they consider any other anti-aging procedures. There are also things you can do to extend your results, which include:
Maintaining a healthy weight
Avoiding the use of nicotine
Staying out of the sun and wearing quality sunscreen consistently
Sticking to a good skincare regimen
Considering "touch-up" treatments with nonsurgical services
What is a secondary facelift?
An effective lift turns back the clock in a way that looks natural. However, it doesn't stop the clock. Your face continues aging, and, at some point, you may choose to have another lift to treat recurrent signs of facial aging. That's called a secondary facelift. In the hands of an experienced plastic surgeon such as Dr. Dax, a secondary facelift is safe and gets excellent results.
Is a facelift painful?
Patients typically experience soreness and tightness initially, not actual pain. Discomfort is usually managed with prescription or over-the-counter medication.
What are the nonsurgical alternatives?
People with early signs of aging or those who want to avoid surgery may benefit from one or a combination of the following medical spa treatments as a nonsurgical facelift alternative:
Results are temporary and not as significant as surgery; however, nonsurgical treatments are a good way for many people to refresh their look with little to no downtime.
A Reputation Built on Results
I had two plastic surgery procedures (nose, BA) done here in one go, and I was so nervous beforehand....
Dr. Dax and his whole team are phenomenal. I got a rhinoplasty two months ago after debating on it for...
I couldn't be happier with choosing Dr. Dax Guenther and his team at Coastal Plastic Surgery. Dr. Dax...
Back to Top