Dax Guenther, MD: Coastal Plastic Surgery
2 Pond Park Road #308
Hingham, MA 02043
Phone: (781) 740-7840
Monday: 8 a.m.–4 p.m.
Tuesday: 7 a.m.–3 p.m.
Wednesday: 8 a.m.–4 p.m.
Thursday: 7 a.m.–3 p.m.
Friday: 7 a.m.–2 p.m.
Saturday–Sunday: Closed

Dax Guenther, MD: Coastal Plastic Surgery
6b Amelia Drive
Nantucket, MA 02554
Phone: (781) 740-7840
Monday–Friday: 8 a.m.–4 p.m.

Other Facial Procedures
Even the most subtle facial characteristics can have a marked effect on your overall appearance. If you feel that your face could use some improvements in symmetry or definition, you may benefit from procedures such as ear surgery (otoplasty), chin implant surgery or neck lift. Boston facial plastic surgery performed by board-certified plastic surgeon Dr. Dax Guenther can add balance to your facial features and help define your profile.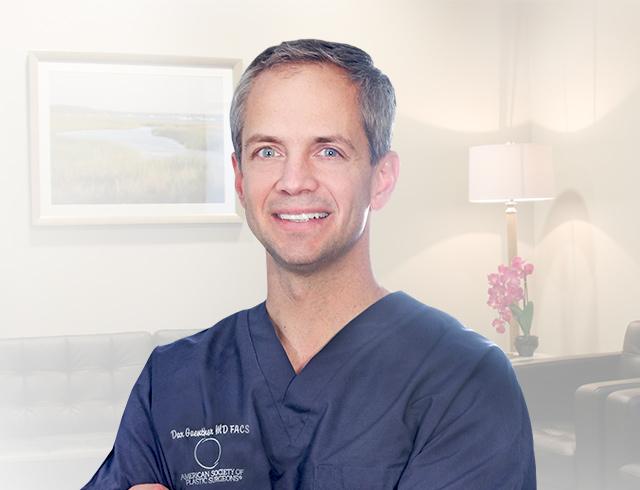 Meet 'Dr. Dax'
Board-Certified Plastic Surgeon
With impeccable credentials and a personable bedside manner, Dr. Dax gives his patients confidence and peace of mind from their initial consultations through follow-up appointments. He established his boutique private practice in 2012 and is among the best plastic surgeons in the Boston area.
Meet Dr. Dax


Exciting Possibilities
Your face conveys your personality to the world. Dr. Dax has the aesthetic eye and surgical skill to enhance your unique facial features and give you the ideal look you desire. He will rely on his exceptional level of anatomical knowledge and medical training to:
Eliminate sagging and enhance the jaw, chin, and neck with a neck lift
Streamline and balance the ears with otoplasty
Create facial definition with chin and cheek implants
In your private consultation, you will have an in-depth conversation with Dr. Dax about your goals for facial surgery. He will use one or a combination of these highly specialized procedures to help you put your best face forward.
Simulate Your Results
Using state-of-the-art 3D imaging technology, Crisalix gives you the opportunity to preview potential results and feel confident about your cosmetic choices.
Get Your Consultation
Advanced Techniques & Options
In addition to offering numerous medical spa procedures and skin care services, Dr. Dax uses modern surgical techniques to achieve predictable, natural and long-lasting results.
Facial Implants
Dr. Dax offers cheek and chin implants, although chin implants are more common. Improving the definition of facial angles even slightly can improve the profile and overall balance of the facial features. In some cases, he can combine a chin implant with rhinoplasty to achieve that overall balance. He also performs osseous genioplasty (chin reshaping) by altering the underlying bone if the patient is a candidate for this type of surgery and does not wish to have an implant.
These procedures are performed as day surgeries. As with neck lifts, patients should have a friend or family member assist with recovery; follow-up appointments also take place at 5 to 7 days and at 2 weeks, after which the patient can generally go out in public comfortably.
A Reputation Built on Results
I don't buy foundation, I do Clear&Brilliant with Haley. I'm a returning client of Dr. Dax and Haley,...
From the initial consultation to my last follow up appointment, everyone was friendly and knowledgeable....
Great practice! Very professional, amazing bed side manner! Dr Dax called me after my surgery to check...
Otoplasty (Ear Surgery)
When performing otoplasty, Dr. Dax hides the incisions behind the ear so the scars are not visible. He takes extra care to avoid the unnatural "pinned back" appearance. He typically performs this surgery on children who are old enough to handle the physical and emotional aspects of the procedure.
Dr. Dax is the only provider in the Boston area who offers EarWells™ – a highly specialized device that can correct infant outer ear deformities without surgery; he trained in Dallas with EarWells designer Dr. Steve Byrd.
Dr. Dax performs otoplasty as outpatient surgery. After their procedures, patients typically wear a headband for the first few days.
Dr. Dax has highly specialized training in procedures for the face, and he can make small adjustments that make a marked difference. Request a consultation online, or call us at (781) 740-7840 to speak with one of our team members today.
Back to Top