Dax Guenther, MD: Coastal Plastic Surgery
2 Pond Park Road #308
Hingham, MA 02043
Phone: (781) 740-7840
Monday: 8 a.m.–4 p.m.
Tuesday: 7 a.m.–3 p.m.
Wednesday: 8 a.m.–4 p.m.
Thursday: 7 a.m.–3 p.m.
Friday: 7 a.m.–2 p.m.
Saturday–Sunday: Closed

Dax Guenther, MD: Coastal Plastic Surgery
6b Amelia Drive
Nantucket, MA 02554
Phone: (781) 740-7840
Monday–Friday: 8 a.m.–4 p.m.

Breast Reconstruction
Facing a mastectomy can be a difficult, stressful experience that most women are not prepared for. We understand this, and we do everything within our power to minimize concerns and give you peace of mind leading up to your breast reconstruction in Boston and Hingham, MA.
Dr. Dax Guenther is a board-certified plastic surgeon who provides a range of surgical options to ensure that your specific needs are met. He will work with you to make sure you are adequately informed about your options, the treatment process, and that all of your questions have been answered.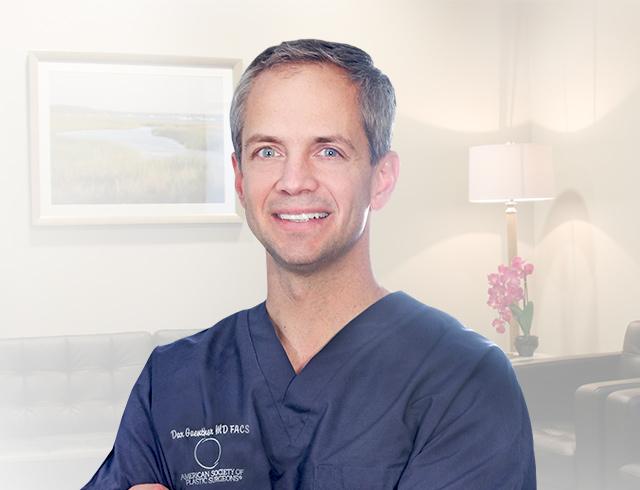 Meet 'Dr. Dax'
Board-Certified Plastic Surgeon
With impeccable credentials and a personable bedside manner, Dr. Dax gives his patients confidence and peace of mind from their initial consultations through follow-up appointments. He established his boutique private practice in 2012 and is among the best plastic surgeons in the Boston area.
Meet Dr. Dax


Promising Possibilities
We believe that each breast reconstruction patient needs a personalized treatment plan. During your consultation, Dr. Dax will outline your options for creating beautiful and natural-looking results that leave you feeling whole. Patients turn to us to:
Reconstruct the breasts to look and feel natural
Create breasts that are symmetrical and balanced
Re-create the nipple and areola for a complete reconstruction
Dr. Dax will explain how various methods can create results that more closely match your goals. We take the time necessary to fully understand your needs, and to make sure you are physically and emotionally ready for surgery.
A Reputation Built on Results
I had two plastic surgery procedures (nose, BA) done here in one go, and I was so nervous beforehand....
Dr. Dax and his whole team are phenomenal. I got a rhinoplasty two months ago after debating on it for...
I couldn't be happier with choosing Dr. Dax Guenther and his team at Coastal Plastic Surgery. Dr. Dax...
Advanced Techniques & Options
Whether reconstruction takes place after or at the time of mastectomy, women need someone with enough training to help them restore the appearance of their breasts with minimal complication and discomfort. Our team has extensive experience with all types of breast reconstruction, and Dr. Dax offers a range of techniques to meet each woman's needs.
The two primary forms of breast reconstruction Dr. Dax offers are:
Implant-based reconstruction involves the use of breast implants to restore breast volume. Dr. Guenther will explain the benefits of each option, and how it will affect your results.
Flap-based reconstruction involves moving the patient's own tissue from an area of the body such as the abdomen or back and using it to re-create the breast mound.
Sometimes, a temporary tissue expander is placed at the time of surgery to make room for either a tissue flap or an implant. Over the course of several weeks, the expander is gradually filled with saline to enlarge the pocket and expand the skin in preparation for a more permanent replacement.
Simulate Your Results
Using state-of-the-art 3D imaging technology, Crisalix gives you the opportunity to preview potential results and feel confident about your cosmetic choices.
Get Your Consultation
Healing & Enjoying Your New Look
Your recovery will primarily depend on the extent of the procedure, and which techniques are chosen. Typically, women who undergo delayed breast reconstruction with the use of a tissue expander will be able to return home sooner than those who opt for immediate reconstruction, or those undergoing flap reconstruction. Dr. Dax will give you a more accurate estimate of your recovery process during your consultation.
In cases where the nipple has been removed, Dr. Dax will reconstruct the nipple and areola as the final stage of reconstruction.
This can be a trying time in your life, but you can rest assured that our team will be with you the entire time to ensure your comfort.
Talking with Dr. Dax can help you feel relieved and empowered as you review your choices for breast reconstruction. Request a consultation online, or call our office at (781) 740-7840 to speak with a member of our team today.
Back to Top