Dax Guenther, MD: Coastal Plastic Surgery
2 Pond Park Road #308
Hingham, MA 02043
Phone: (781) 740-7840
Monday: 8 a.m.–4 p.m.
Tuesday: 7 a.m.–3 p.m.
Wednesday: 8 a.m.–4 p.m.
Thursday: 7 a.m.–3 p.m.
Friday: 7 a.m.–2 p.m.
Saturday–Sunday: Closed

Dax Guenther, MD: Coastal Plastic Surgery
6b Amelia Drive
Nantucket, MA 02554
Phone: (781) 740-7840
Monday–Friday: 8 a.m.–4 p.m.

Male Breast Reduction
Men can develop enlarged breasts—a condition known as gynecomastia—at various stages of life. Gynecomastia can detract from your feelings of masculinity, deeply affecting your overall self-confidence. Male breast reduction surgery in Boston and Hingham, MA, with board-certified plastic surgeon Dr. Dax Guenther will reverse this potentially embarrassing condition, allowing you to lead a more fulfilled and comfortable life.
Male Breast Reduction (Gynecomastia)

Before & After Photos

Before & After
Case #28
Male in 20s with asymmetric gynecomastia. Breast tissue removed via assisted liposuction. Shown one month after correction and areolar reduction.

Before & After
Case #2
Athletic male in 20s with gynecomastia. Breast tissue removed via periareolar incisions. Shown one month later with scars hidden around areolae.
Read More
Keep in mind that each patient is unique and your results may vary.
What Are the Benefits of Male Breast Reduction Surgery?
Dr. Dax understands the importance of working with each of his male breast reduction patients individually so he can personalize the surgery to match his distinctive body type. During your consultation, you will have an in-depth conversation with him about your goals for the procedure, including:
A symmetrical, flatter, more muscular-looking chest
Reshaped and/or resized nipples
A toned surface without excess skin or tissue
The ability to wear a fitted shirt or even walk around shirtless
Dr. Dax provides honest and candid answers to questions during your private consultation. His extensive training allows him to employ the most forward-thinking surgical methods available in order to create natural results down to the finest detail.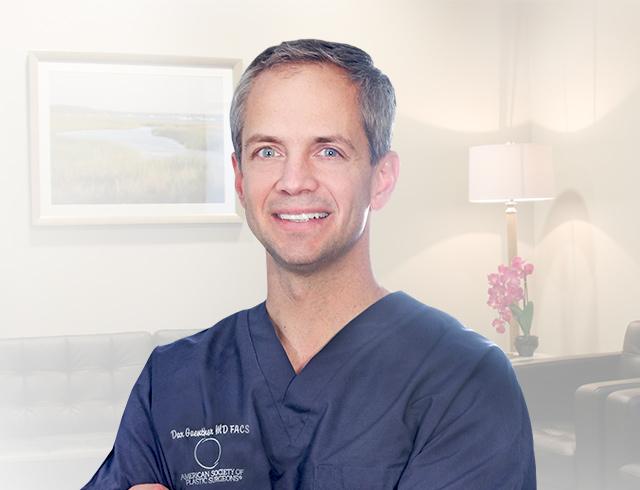 Meet 'Dr. Dax'
Board-Certified Plastic Surgeon
With impeccable credentials and a personable bedside manner, Dr. Dax gives his patients confidence and peace of mind from their initial consultations through follow-up appointments. He established his boutique private practice in 2012 and is among the best plastic surgeons in the Boston area.
Meet Dr. Dax


How Is Male Breast Reduction Surgery Performed?
Dr. Dax knows his patients want their bodies to look so natural that nobody else will suspect they have undergone plastic surgery. During his years of intensive medical training and experience, he honed his command of both plastic and reconstructive surgery, allowing him to sculpt your upper body to suit your individual desires while leaving minimal scarring.
Dr. Dax uses liposuction for almost all of his gynecomastia patients, but in some cases he surgically removes excess skin. Liposuction not only allows him to remove dense breast tissue but can also help tighten the overlying skin for a toned appearance.
How Much Does Male Breast Reduction Surgery Cost?
The cost of male breast reduction surgery is something most patients consider before choosing a plastic surgeon. The cost will vary based on several factors, including the geographic location of the practice, the surgeon's training and experience, and the techniques used during the procedure.
The cost of the procedure, however, shouldn't be the primary consideration for people considering male breast reduction. It's also important to know what's specifically included when a practice provides a price quote. The total cost often includes:
Surgeon's fee
Hospital or surgical facility costs
Anesthesia fees
Prescription medications
Medical tests
Financing the surgery helps many patients pay for cosmetic procedures that aren't covered by health insurance. Coastal Plastic Surgery partners with CareCredit® for qualified patients who wish to finance their procedures.
A Reputation Built on Results
I don't buy foundation, I do Clear&Brilliant with Haley. I'm a returning client of Dr. Dax and Haley,...
From the initial consultation to my last follow up appointment, everyone was friendly and knowledgeable....
Great practice! Very professional, amazing bed side manner! Dr Dax called me after my surgery to check...
How Long Is Recovery After Male Breast Reduction?
Because of Dr. Dax's highly developed breast-reduction techniques, your gynecomastia procedure will take place on an outpatient basis. You will need to wear a compression garment for a few weeks following the procedure to assure proper healing, support your new chest and maximize your comfort during recovery.
The exact length and nature of your recovery, including the interval for follow-up appointments, will depend on the extent of your surgery. Dr. Dax will discuss the individual details of your recovery during your consultation; he will be available to answer any questions you may have during your downtime and offer his assistance to meet all your needs.
Are you ready to learn more about how Dr. Dax can give you the masculine upper body you've always wanted? Request a consultation online, or call us at (781) 740-7840 to speak with one of our team members today.
Back to Top