Dax Guenther, MD: Coastal Plastic Surgery
2 Pond Park Road #308
Hingham, MA 02043
Phone: (781) 740-7840
Monday: 8 a.m.–4 p.m.
Tuesday: 7 a.m.–3 p.m.
Wednesday: 8 a.m.–4 p.m.
Thursday: 7 a.m.–3 p.m.
Friday: 7 a.m.–2 p.m.
Saturday–Sunday: Closed

Dax Guenther, MD: Coastal Plastic Surgery
6b Amelia Drive
Nantucket, MA 02554
Phone: (781) 740-7840
Monday–Friday: 8 a.m.–4 p.m.

Brazilian Butt Lift
Boston-area women who want shapelier butts without synthetic implants come to Coastal Plastic Surgery for Brazilian butt lift surgery. The procedure really offers the best of both worlds, because it involves removing fat from an area of the body where it's unwanted and using it to augment the buttocks. Board-certified plastic surgeon Dr. Dax Guenther specializes in body contouring procedures and creates results that look natural.
Exciting Possibilities
Imagine filling out your jeans or little black dress with higher, rounder, more athletic-looking buttocks. That's possible after getting a Brazilian butt lift, a procedure that has become very popular in the past few years. The procedure uses your own fat to create the desired curves, eliminating the risks posed by when using implants for buttock augmentation. Even though it's called a Brazilian butt lift, the procedure is not designed to elevate sagging skin or tissue. It augments the buttocks and the best candidates have good skin tone with minimal sagging.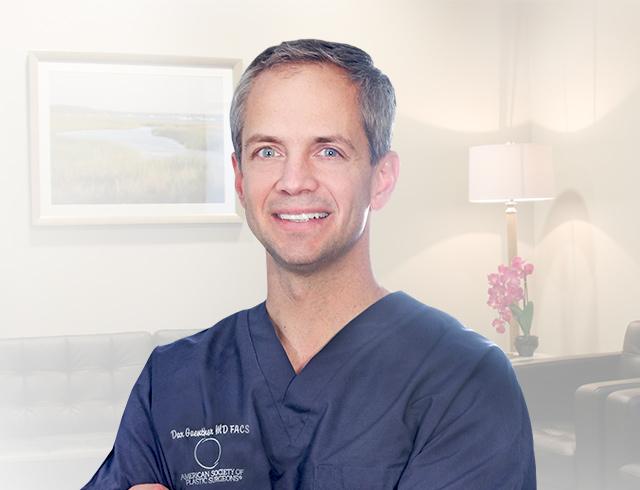 Meet 'Dr. Dax'
Board-Certified Plastic Surgeon
With impeccable credentials and a personable bedside manner, Dr. Dax gives his patients confidence and peace of mind from their initial consultations through follow-up appointments. He established his boutique private practice in 2012 and is among the best plastic surgeons in the Boston area.
Meet Dr. Dax


Advanced Techniques & Options
Dr. Dax uses traditional liposuction techniques to maximize the percentage of fat that survives the fat transfer process. It's important to minimize handling of the fat during the extraction and transfer procedure. Tumescent liposuction, which is what Dr. Dax uses to harvest the fat used for buttocks augmentation, involves injecting a solution premixed with an anesthetic and epinephrine to help limit bleeding. After saturating the treatment area, Dr. Dax uses a small, thin tube called a cannula to suction fat from the body.
After removing the fat, Dr. Dax uses a centrifuge to process it and remove impurities. What's left is purified fat that he then meticulously injects into the buttocks to produce results that are smooth and even, creating the rounder contours patients want.
Synthetic silicone implants are an option for buttocks augmentation, but most patients prefer Brazilian butt lift surgery because it creates results that look and feel more natural, with the added benefit of a slimmer abdomen or thighs.
Simulate Your Results
Using state-of-the-art 3D imaging technology, Crisalix gives you the opportunity to preview potential results and feel confident about your cosmetic choices.
Get Your Consultation
What Is the Cost of a Brazilian Butt Lift?
As with other cosmetic surgery procedures, determining the price of a Brazilian butt lift depends on the specific needs of a patient. The cost varies also from practice to practice and it's important to know what's included in the price quote. The cost may include:
Surgeon's fee
Hospital or surgical facility costs
Anesthesia fees
Prescription medications
Medical tests
Even though cost is a concern for most patients, we recommend avoiding choosing a plastic surgeon based on the lowest price. Choosing a board-certified, experienced surgeon who is qualified to perform the procedure you want should be your top priority.
A Reputation Built on Results
I don't buy foundation, I do Clear&Brilliant with Haley. I'm a returning client of Dr. Dax and Haley,...
From the initial consultation to my last follow up appointment, everyone was friendly and knowledgeable....
Great practice! Very professional, amazing bed side manner! Dr Dax called me after my surgery to check...
Healing and Enjoying Your New Look
The recovery process is unique to each patient and varies depending on the extent of the liposuction performed and the augmentation itself. Some people are naturally faster healers, but in general recovery following Brazilian butt lift surgery takes a few weeks. You should expect bruising and swelling in the buttocks and the area where Dr. Dax performed liposuction. This peaks after about a week and then resolves on its own in most cases.
Dr. Dax prescribes medication to manage any discomfort you may have. Taking short walks and moving around during the initial recovery is important to ensure good circulation and minimize the chances of complications. We provide detailed post-op instructions that, when followed closely, help the recovery process go smoothly. You must sleep on your side or stomach for a few weeks and you should avoid sitting directly on a chair or couch. Use a donut or inflatable pillow and avoid sitting for long periods of time.
Dr. Dax performs Brazilian butt lift surgery at our Hingham surgical center on the South Shore. You can learn more about the procedure from Dr. Dax by requesting a consultation  using the online form, or by calling us at (781) 740-7840 , to speak with one of our team members today.
Back to Top