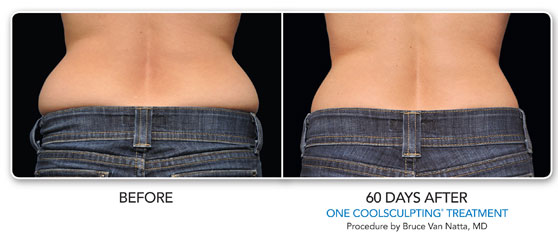 Coastal Plastic Surgery is pleased to now be offering CoolSculpting®.  This non-invasive fat elimination procedure is an amazing answer for patients looking for the treatment of areas of stubborn fat that are resistant to diet and exercise.
It's a technology that has been around for several years but a few new advancements have improved it even further.  Historically difficult areas to manage like the outer thighs (a.k.a. saddlebags) or upper arms are seeing pretty incredible results.  It uses cryolipolysis which is the scientific term for cooling down the fat cells to the point at which they die.  The tissue you want to treat is placed between two cooling plates for about an hour, during which time you can read, work on a laptop, listen to some music or just take a nap!  It is a "spot treatment" best suited to patients who are overall happy with their body but may have a stubborn lower tummy pouch or "love handles" that they just don't love!
CoolSculpting is the perfect solution for Boston patients looking for a non-invasive option with results that are plastic surgeon approved.  No incisions, no anesthesia, no compression garments, no down-time.  You walk out of the office with no restrictions.   Final results do take a few months to be fully appreciable as the fat cells internally slough away.  This is a great time to start treating areas you want ready for spring and summer.